Hydraulic Fracturing
Growth in global development has increased the demand for energy, which drives the need for hydraulic fracturing. A well is first drilled and constructed using cement to provide an isolation barrier between the producing zone and ground water and once completed, hydraulic fracturing can commence. Small holes are perforated in the reservoir layer of rock through the casing and rock formation. Hydraulic fracturing fluids comprised of greater than 99% water and sand are pumped down the wellbore, creating tiny fractures in the rock that allow trapped hydrocarbons in the reservoir to move into the wellbore and safely to surface. Trican's industry leading technology and expertise make it possible to unlock Canada's energy endowment safely and responsibly.
Trican introduced the first low emissions fracturing spread in Canada, comprised of Tier 4 dynamic gas blending ("DGB") engines that provide a leading-edge reduction in emissions and lower fuel costs for our industry. Our Tier 4 DGB fracturing pumps have seen best-in-class diesel displacement of upwards of 85%, contributing to lower air pollutants and greenhouse gas emissions.
Trican has also taken steps in reducing engine idle hours through automated idle reduction systems that reduce emissions, fuel costs and noise pollution. We are committed to being the lowest emitting pressure pumping service provider in Canada while generating an attractive return on invested capital for our shareholders and building a company of proud employees.
Trican has invested in best-in-class systems and processes that allow us to achieve industry leading pumping efficiencies on a consistent basis. Trican has experienced crews, providing frontline innovations and solutions every day. Our engineering team works closely with our customers on the program design, MiniFrac analysis, pore pressure closure pressure and system permeability. Our R&D and laboratory works on innovative solutions while providing focused support and advanced analytical capabilities that provide best-in-class testing and technologies for our customers.
Fluid Systems
Slick Water
Trican offers a full suite of proven friction reducers designed for use with any water source, allowing our customers the flexibility to reduce their reliance on fresh/potable water. Our products are designed with high concentration active ingredients, giving us the ability to optimize loadings in real time, as well as streamlining our logistics. Our full service laboratory works with our customers to provide the best products for their production and Environmental, Social and Governance (ESG) goals.
High-Viscosity Friction Reducer (HVFR) & Guar Alternatives
Our products offer exceptional viscosity in fresh water, in addition to industry-leading performance in recycled water. The ability of our products to perform with various water sources allows our customers to reduce their reliance on fresh water, using non-potable sources instead, enabling our customers to be industry leaders in their Environmental, Social and Governance (ESG) performance during completions. Trican continues our commitment to developing industry leading products with this goal in mind.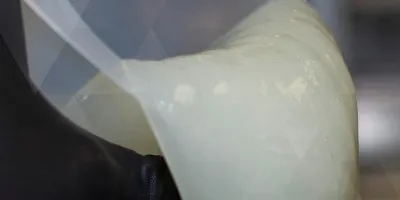 Other Systems
In today's completions, slickwater and high viscosity friction reducers are the common fluids of choice. However, Trican still maintains and provides conventional fracturing fluids for completions. These systems include crosslinked gels, energized foam systems, visco-elastic (VES) systems, high rate nitrogen for coal bed methane fracturing and gelled hydrocarbons. All systems can be provided with support data from our in-house laboratory.
Diversion
For stimulation treatments to be most effective, they must be distributed evenly over the perforated interval. When running a liner system is not an option, we can implement both Dissolvable Ball Sealers and Diverting Agents.
Dissolvable Ball Sealers:
Seal off perforations forcing fluid into different sections of the intervals to be treated.
TriVert ™ Diverting Agent:
These temporary bridging agents are designed to redirect fluids into different sections along the wellbore or deep within the fracture network. TriVert particles degrade completely with time and temperature, allowing isolated zones of interest to produce without any further intervention or residue.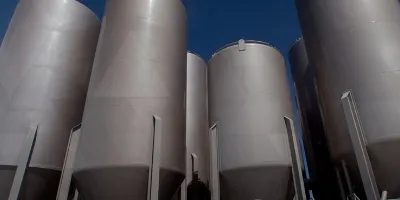 Logistical Solutions
Thorough logistical planning is critical in ensuring that successful fracture treatments are effective, efficient and safe. From expert engineering design to the procurement and coordination of chemicals, proppants, people and equipment, we make sure every piece is in place to get the job done right, saving you time and money.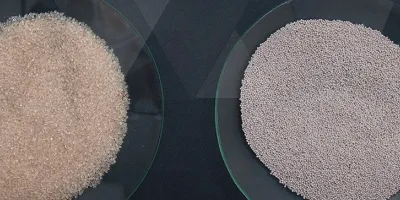 Proppant
With a secure supply of high-quality proppants, Trican can design and deliver fracture treatments using the most effective proppant for your specific well.
Sand
We offer high-quality, natural sand as a cost-effective proppant solution. Our patented line of proppant coating technologies can be applied to any sand, including SandStill™ to minimize flowback, CleanProp™ to minimize dust, or MVP Frac™ and CSF™ to maximize proppant transport.
Resin Coated Sand (RCS)
Compared with natural sand options, RCS can offer increased conductivity, greater proppant flowback control, and a more consistent rounded shape for enhanced conductivity in your fracture treatment.
Ceramic
Engineered for high conductivity under greater fracture closure pressures, ceramic proppants are uniform in size and shape to generate superior results. Ceramic proppants can be sourced upon request.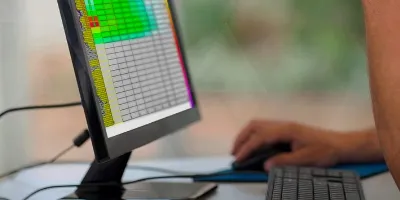 Fracture Design
Our extensive industry experience and integrated services will ensure you get the most from your well. With advanced fracture models alongside geological and geophysical data, we create fully calibrated and customized design solutions for your well. Area studies for specific formations are performed using internal as well as public frac databases to better understand the optimal fracture design for a given project.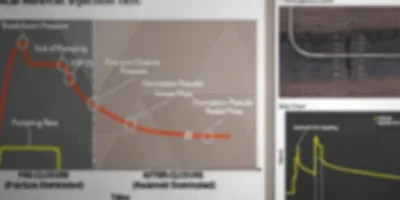 Minifrac Test & Analysis
Minifrac testing and analysis allow us to obtain information critical to the development of a strategic stimulation design for optimized production. This includes pore pressure for reservoir studies, closure pressure for geomechanical understanding, and system permeability for completion design parameters. By injecting a small volume of fluid into a formation at a defined rate, we can create localized fractures and analyze variables such as injection rate, volume, pressure and falloff pressure for optimal stimulation design.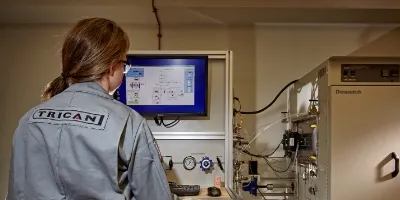 Laboratory Solutions
Trican has a full line of chemical and fluid systems available to meet the needs of our clients. In conjunction with testing services at our full-service lab based in Calgary, our clients are assured of the best solution for their wells.
Learn More About Our Lab